Unforgiveness (Part 2): 'To understand everything is to forgive everything'
FORGIVENESS WORKSHOPS
THE CONCEPT, THE NEED, THE SOLUTION
The Solution
Forgiveness is a common foundation of theology among seemingly all Holy Writings of the World.  Buddha is quoted to have said, "To understand everything is to forgive everything."  Out of the 31,173 verses in the canonized Bible, approximately 136 verses include the word "forgive".  Ephesians 4:32 "Be kind one to another, tender-hearted, forgiving one another, as God in Christ has forgiven you."  (ESV) epitomizes Jesus' teachings.
With individuals, groups, organizations and countries alike, the need for justice must not outweigh the grace of mercy.  Justice can never be satisfied with retribution of like kind only escalated, both in the offender and the offended.  Forgiveness is sometimes cyclical.  The situation does not change, the offender continues the offense, but the offended is mandated to continue to forgive.  It becomes a cycle of offense-forgiven.  Jesus said we are to never stop forgiving or withhold forgiveness no matter how many times we have to forgive the same person, maybe even for the same offense.
Forgiveness shows mercy.  In turn, the forgiver receives mercy and healing in the form of freedom from bitterness, rage, anger, malice, haughtiness and the plethora of other sordid emotions leading to self-destruction.  The work of two men, Roy Lloyd and Robert Enright, Ph.D. as revealed in the Huffpost the Blog, The Science of Forgiveness, has catapulted the planet into the 21st century citing ultimately forgiveness is a milestone in the pathway to world peace.

Lloyd and Enright conducted a study investigating empirical outcomes of forgiveness in a series of clinical trials among targeted groups.  Among the groups were "emotionally abused women, college students hurt by emotionally distant parents, the elderly hurt by family members, incest survivors, people recovering in a drug rehabilitation facility, men who were angry and who had cardiac problems, and hospice patients who wanted to tie up the loose ends of family estrangement before passing on."  The study showed marked decreases of depression among the incest survivors and in all groups there was marked improvement in both psychological and physical health as well.  "Science tells us that forgiveness bolsters emotional health [and sometimes physical health] and provides a way of healing for those treated unjustly."
Forgiveness is an individual responsibility of caring for one's self spiritually, emotionally and physically.  And it must be at the head of the table of every world leader to avoid conflicts over borders, people, valuables, power and control. How many wars could have been NOT FOUGHT?  It begins with each and every one of us and then it will permeate our world and rule.  Just as we know one day peace will rule, we know it will rule through forgiveness.
So how do we re-train ourselves?  Education, prayer, studying, seeking wisdom, being slow to anger and slow to speak.  In addition, forgiveness has become a science among us through education, workshops, and therapy.  Clinician, Everett L. Worthington, Jr. of the American Christian Counselor's Association, has formed psychoeducational groups called REACH Forgiveness (an acrostic outlining the five major steps).   These groups can help people who want to forgive and have not been able to.  They may have made the decision intellectually, but cannot get over the emotional hurdle to forgive.   R = Recall the Hurt; E = Empathize with the Trangressor; A = Altruistic Gift of Forgiveness; C = Commit Publicly to the Forgiveness One Experiences; H = Hold onto Forgiveness When You Doubt.  Ruminating is an enemy of forgiveness and can undo hours of work in a few moments rendering one back to an unforgiving state.  These workshops can be conducted in approximately 13 hours total.
There are other resources also.  Roy Lloyd and Robert Enright, Ph.D. also conducted clinical studies with children in war zones and poor, oppressed areas.  Fictional children's books were used by the teachers of the class to highlight forgiving.  The results demonstratively proved as the children learned forgiveness their anger diminished even though their situations may not have resolved.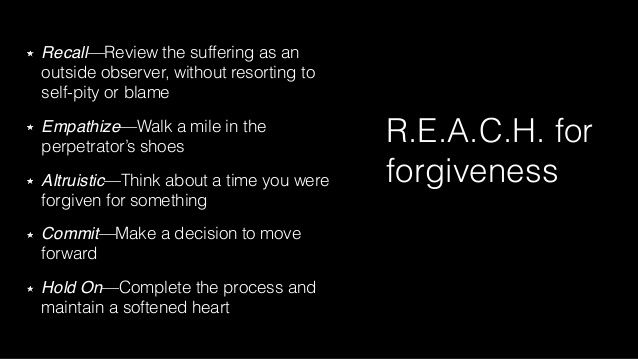 Resources:
June Hunt, Forgiveness the Freedom to Let Go (2013) Hope for the Heart Aspire Press, a division of Rose Publishing, Inc., 4733 Torrance Blvd., #259, Torrance, CA 90503 USA www.aspirepress.com
Roy Lloyd and Robert Enright, Ph.D. Huffpost the Blog (06/16/2010), The Science of Forgiveness
The American Association of Christian Counselors (AACC), P. O. Box 739, Forest, VA 24551
Chula R. Peace, member of the AACC & Unity & Diversity World Council.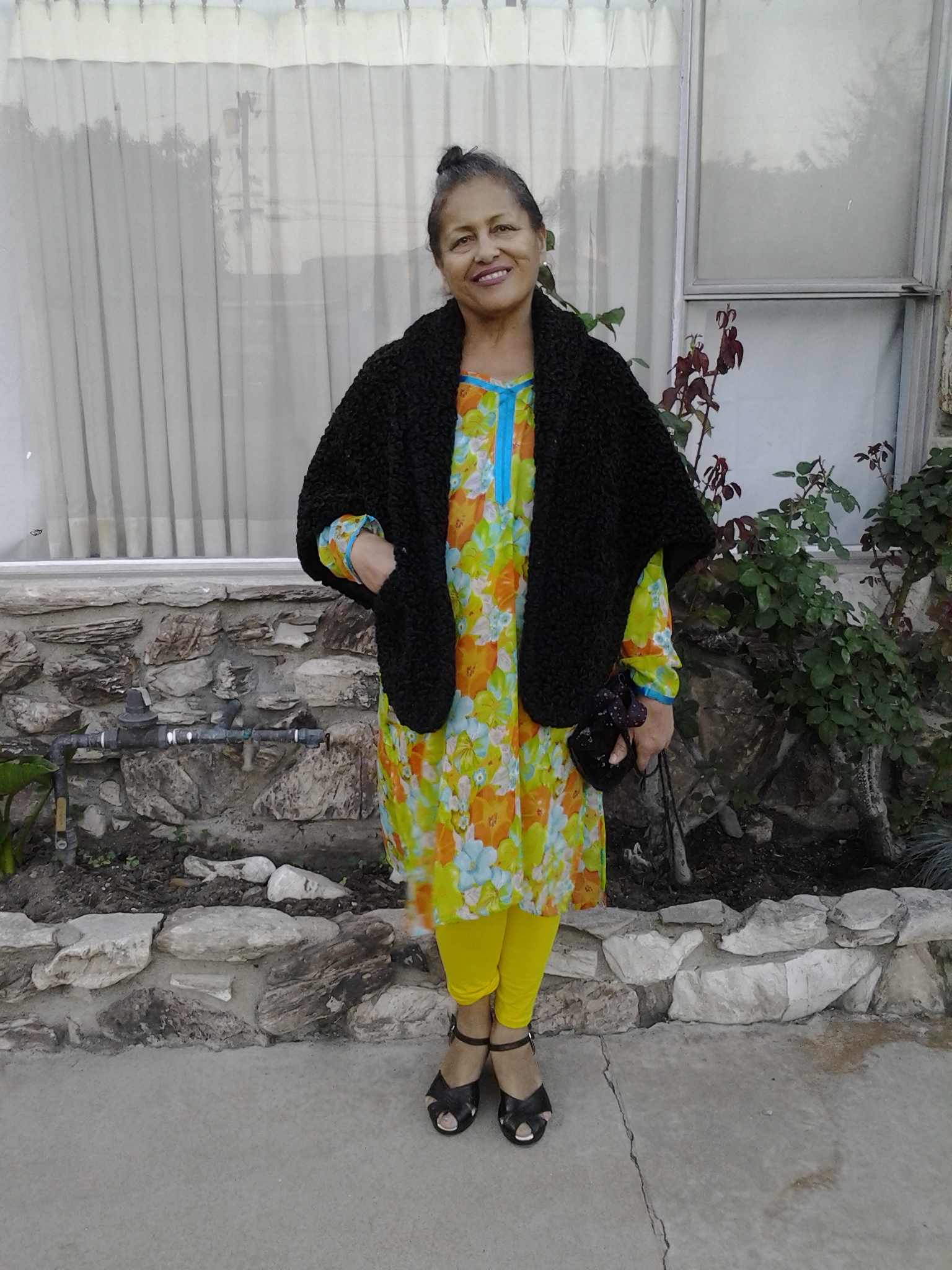 Chula Recique is a native New Yorker raised in sunny California.  She enjoys being a mother, grandmother, and daughter as well as being a student at Liberty University in Lynchburg, Virginia where she is currently studying full time for a Bachelor of Science in Divinity/Christian Counseling and minoring in Autism Spectrum in Adults and Children.   She was able to acquire an A.A. degree from Los Angeles City College in Human Services, a Paralegal certificate and a Legal Secretary certificate from U.C .L.A.  Her life journey has been more than colorful and deeply introspective.  She seeks to engage her creativity with hard earned and muchsought after wisdom to bring positive change to the world stage and individual hearts.  She also enjoys classical piano, creating original crochet designs, calligraphy and drawing.  She hopes to study for an A.A. in Music.