A Peace Pole is a hand-crafted monument that displays the message and prayer "May Peace Prevail on Earth" on each of its four or six sides, usually in different languages.
There are tens of thousands of Peace Poles in 180 countries all over the world dedicated as monuments to peace. They serve as constant reminders for us to visualize and pray for world peace.
When you plant a Peace Pole in your community, you are linking with people all over the world who have planted Peace Poles in the same spirit of peace.
…………………………………………………………………………..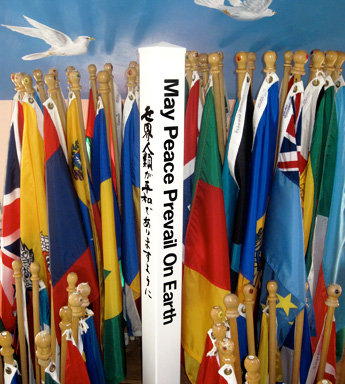 Peace Poles can be found on all the continents around the world and UDC is excited to embark on spreading this message in Los Angeles and beyond.
The World Peace Prayer Society will be working with Unity-and-Diversity and the City of Los Angeles Recreation and Parks as well as the Cultural Affairs Department in planting Peace Poles through the beautiful parks in the city of the Angels with the words May Peace Prevail on Earth in many languages, welcoming inhabitants from every place on the planet who now reside in the city of the Angels.
………………………………………………………………….