Uran Snyder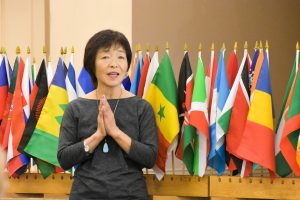 Uran Snyder was born in Tokyo Japan. She left high school when she decided she wanted to teach Japanese to foreign language speakers. She studied English at The Interpreter Training School, French at the Institute of Franco-Japonais, and Spanish at the Monastery of Las Adoratrices in Tokyo.
While she had no intention to leave Japan, fate changed that and she found herself spending several years in Europe, studying at the University of Madrid in Spain and the University of Grenoble in France. She met her husband in Spain, and they currently live in Long Beach, California.
Uran is a visual artist. She has a Bachelor of Fine Arts And Master of Fine Arts from California State University, Long Beach. She has exhibited her large-scale drawings, paintings, and installations in California.
Uran is a Peace Representative for the World Peace Prayer Society. She lectures for the Byakko Shinzo Kai of Japan and currently serves as a Board Member at the Byakko Los Angeles branch in Gardena, California. She also teaches IN mudras for re-igniting humanity's divinity within to bring harmony, love, and peace to the world.
May Peace Prevail On Earth