Peace Sunday 2019: This year's theme revealed
This year's Peace Sunday will be held on September 22 and will take place at the IMAN Cultural Center in Palms.
The theme for this year is "The Challenge to Democracy: Upholding Faith, Justice and Dignity".
"In these very turbulent times, we see great stress placed on the fundamental institution of democracy," UDC's Executive Director, Stephen Fiske writes of this year's theme. " This year's Peace Sunday is designed as a forum to discuss the issues of vital concern to all of us, and actions that can be taken to sustain and improve the ongoing growth of our troubled democracy."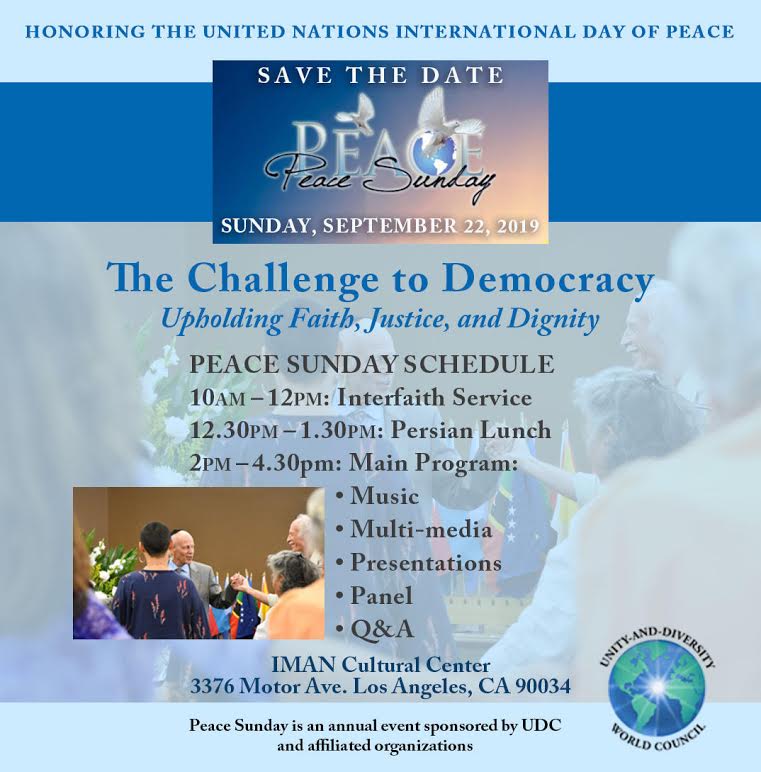 Peace Sunday, UDC's annual event that honors the United Nations International Day of Peace, (Sept 21), first began in 1982 and was produced by "The Year of Shalom Committees" as a protest against the arms race in support of the Nuclear Freeze Movement.  It was a huge event at the Rose Bowl. UDC founder, Rev. Leland Stewart was on the Year of Shalom Committee and later received the rights to the name.  We have continued the legacy since then with different themes every year in various locations.
Please view the video/slideshow posted below, with photos taken by Amanda Reta and music provided by Stephen Fiske, from Peace Sunday 2018.
https://drive.google.com/open?id=1p6-bBJSryNTt0Eag4nfLTSuvgf_EkGdF
To view the history of Peace Sunday, please watch the video below:

To learn more about Peace Sunday, or to purchase a ticket for the event, please click HERE.